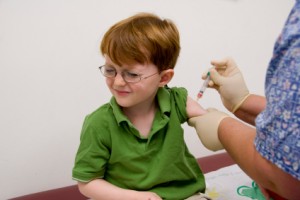 The federal government is recommending that boys get vaccinated against HPV– but may find the virus' connection to gay men and anal cancer a tough selling point.
On Tuesday, a Centers for Disease Control panel recommended that boys ages 9-11 be vaccinated against human papilloma virus (HPV). The CDC already recommends girls be vaccinated against HPV.
HPV can cause girls to get cervical cancer later in life; 15,000 new cases are reported annually. The CDC said that 7,000 men in the U.S. get anal cancer every year.
"Some parents may say, 'Why are you vaccinating my son against anal cancer? He's not gay!'" Dr. Ranit Mishori told the Associated Press.
Heterosexual boys who get the HPV vaccine will also avoid transmitting HPV to women, thereby creating what is called "herd immunity."
Another awkward issue for parents is the fact that patients must be vaccinated before they become sexually active for the vaccine to be most effective. So, doctors are broaching the issue with parents of prepubescent kids — parents who might be reluctant to imagine their kids as straight or gay.
The vaccine costs $130 and is not covered by all insurance plans. The CDC hopes it becomes as common and uncontroversial as vaccines for chicken pox and small pox.
That hope might be far-fetched; the vaccine has already become an issue in the Republican race for president, because Texas Gov. Rick Perry had advocated for it. Rep. Michele Bachmann accused Perry of putting kids at risk for complications like mental retardation (which have not been proven).
"Today is another milestone in the nation's battle against cancer," said CDC official Dr. Anne Schuchat.
HPV infects 75 to 80 percent of adults in the United States, but most never know it.