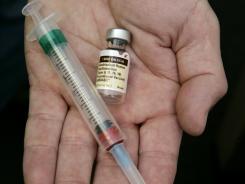 A test that detects the two strains of human papillomavirus (HPV) that are most likely to raise the risk of invasive cervical cancer, when combined with the Pap test, may be more accurate for many women than the Pap test alone, a new study indicates. And, for those women who are HPV-positive, using the HPV test alone appears to be enough, said study author Philip Castle, a researcher at the American Society for Clinical Pathology Institute in Washington, D.C.
For the women who were HPV-positive, he said, "we didn't need the Pap. We could have used the HPV alone and gotten the same results."
The study was funded by Roche Molecular Systems, which makes an HPV test. The study is published online Aug. 22 in The Lancet Oncology.
The researchers looked at a DNA-based HPV test, made by Roche and approved in 2011 by the U.S. Food and Drug Administration.
Castle works as an unpaid consultant for the company. Other authors have received consulting fees from Roche or work as employees at the company.
Under cervical cancer screening guidelines issued by the American Cancer Society in 2002 and the American College of Obstetricians and Gynecologists in 2003, women aged 30 or older should have both a Pap test, also known as a Pap smear, as well as an HPV test, also called an HPV co-test. HPV is the most common sexually transmitted infection, and certain strains of the virus can cause cervical cancer.
Under current guidelines, if the results of both tests are normal, a woman can wait three years for her next Pap test, which looks for signs of cancer in cells from a woman's cervix.
Doctors must make a decision when a woman tests HPV-positive, Castle said. She can be sent immediately for a colposcopy or told to return for more testing in a year. In a colposcopy, the doctor uses an instrument that magnifies the cervix and vagina and allows the doctor to identify potentially abnormal areas and biopsy them if necessary.
In the study, Castle evaluated test results for almost 41,000 women, all aged 25 and above. They were enrolled in 61 studies in 23 states. Two samples were taken from each woman for Pap tests and HPV tests. Those who had abnormal cells on the Pap or those who had normal Paps but were positive on HPV were referred for a colposcopy.
In addition, a control group of women who were negative on both HPV and Pap were referred to colposcopy.
Of that total, 10 percent tested positive on the HPV test and 6 percent had abnormal Paps. They found that 705 of these women had precancerous lesions.
In women who had colposcopy, the HPV test was found to be more sensitive than the Pap for detecting the higher-grade lesions.
While 92 percent of the women with these high-grade precancerous lesions were found by HPV, only 53.3 percent of those with such lesions were found on the Pap.
Using both tests together increased accuracy of identifying those who had the lesions by nearly 5 percent. However , using both together also resulted in 30 percent of women being called back for what turned out to be false-positive results.
Then Castle looked only at the HPV-positive women, finding the HPV test alone was enough.
Cervical cancer is typically slow growing, he noted. In the United States, it is a fairly uncommon cancer. About 12,200 women were diagnosed with it in 2010, while 4,210 women died of the disease.
"This study has demonstrated that it may be possible to replace the Pap smear with a more effective screening strategy employing the use of high risk HPV testing alone," said Dr. Elizabeth Poyner, a gynecologic oncologist and pelvic surgeon at Lenox Hill Hospital, in New York City.
In an accompanying commentary, Dr. Guglielmo Ronco of the Centre of Cancer Prevention in Turin, Italy, said that standalone HPV tests may become the primary screening in high-income countries, since the addition of Pap tests seem to provide little benefit.