Currently viewing the tag: "Prolia"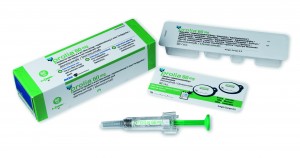 The FDA has approved the osteoporosis drug Prolia as a treatment for some breast and prostate cancer patients whose bones have been weakened by certain hormone therapies for cancer.
The drug's manufacturer, Amgen Inc., says studies showed that Prolia improved bone mass and reduced the occurrence of new spine fractures in men with prostate cancer receiving androgen deprivation therapy and who did not have cancer spread to the bone. It also increased bone mass in women being treated with aromatase inhibitors for breast cancer.
The company says in a news release that Prolia is the "first-and-only" therapy approved by the FDA for cancer treatment bone loss in patients who have undergone hormone therapy.
Continue Reading

→